When 2 of your favorite bloggers host a one day link up you don't skip it. These two Dallas geniuses hosted one wayy back that I couldn't participate in cuz was SUCH a baby blogger, I didn't have any search terms...
ANYWAY this link up I can definitely participate in! It's about where my bloggy inspiration comes from. I get inspiration from everywhere when I'm writing my blog posts but these are the big/general 5:
1 // Lil. She is was my inspiration to START this whole bloggy adventure. She's nuts and keeps on my toes. Plus the more I get distracted as I write, the more ideas I get! And she's great at distractions.
2 // Booze. I mean obviously on this one. Any drink. Wine, beer, margs etc. Drunk experiences or drunk thoughts or just a straight up drunk post is always inspiring.
3 // News or internet stories & articles.
I have gotten more ideas from articles I've read on Refinery29 than any other place. Really after I read something I use my blog as a place where I can weigh in on the subject.
4 // Other bloggers.
I read other blogs because they're entertaining and intelligent and fun. Most of them are more successful than me and know what they're doing more better than I do. I try to ask/mention to them that I want to do something similar and 99% of the time I get a "go for it!" More often than not it's more of a variation rather than a replica post but people just have great ideas! The blogs I end up saying "hmm good idea!" to most are by
Helene
,
Sarah
, (both hosting this link up!)
Erin
and
Stephanie
.
5 // My rando mind. Dreams or daydreams I have, hypothetical conversations, thoughts that just find their way into the front of my brain- they come out on my blog! This is quite a useful resource to have.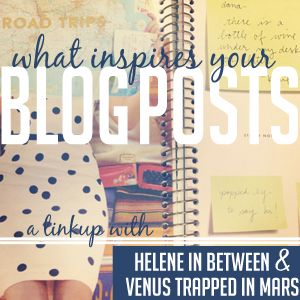 Also. Since my IRL friends and Tom's family read this blog I will NAHT be using this article as an inspiration for a post but you guys need to read it. It's hilarious. Thank god I love
Shannon
and saw this tweet:
@WhitneyEllen @toatsblog "@ThoughtCatalog: How To Tell What Movie Genre Your Sex Life Would Be http://t.co/L1kuLBGPyM"
— shannon (@itgotweird) July 23, 2013