I love Lil. I mean, duh. But
a lot of the time
sometimes she is just in a mood to harass Tom and I, and we are in the mood to not be harassed.
I find when both of us are on the couch, which happens a lotttt, Lil takes that as a cue to start playing fetch. I'm usually blogging or designing, Toms usually watching TV (and he
is not
a multi tasker) and Lil drops the ball on the couch and starts whining. She makes horrific noises really.
When
I'm busy while Tom's a pain in my butt
we're busy and we can't constantly be throwing her ball for her there are issues. We've had a lot of trial and error with ways to entertain her that keep her quiet and occupied but here's what we've found works the best!
These aren't in any particular order, and I wasn't compensated in any way for this stuff. I just have found that they get the job done.
kong wobbler
- it's tough like all the kong products so Lil can't beat the shit out of it. It dispenses her treats or her kibble so we sometimes feed her dinner using it.
peanut butter kong
- layering peanut butter and kibble and treat and/or freezing wet food and treats in the kong and giving it to her to work on takes her quite some time. She gets super committed to it so it's something she won't be distracted from
rawhide
- we get her the biggest/ longest bones we can find. She can go thru the whole thing in one sitting if we let her but we tend to break it up. This is one that we have to pay attention to tho- you can't leave her in a room alone since pieces can break off and she could choke.
starmark treat dispensing chew ball
- this is another treat vehicle. It's another way to feed her if we want to do that, or we can put some treats in there. Lil can totally go nuts and chew and chase treats and we don't have to worry about throwing it. Until she's done. Then we have to throw it for her.
skunk with no stuffing
- Lil loves this thing. And there is no stuffing so I don't have to worry about her basically covering the apartment in fluff. She shakes it around and sprints from room to room like a psychopath. And she loves it
doggy ice cream
- this doesn't take her long to eat but it's a very good distraction. They are sold in most grocery stores and you can actually find
homemade recipes
to try out!
This will be the last week of Tall Tails for a while. It may be back, but for now, Tall Tails out.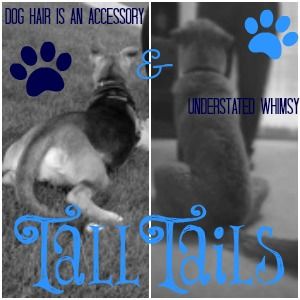 Meet My Favorite Texas to North East Transplant!