Another day, another guest blogger, Another Clean Slate. (see what I did there?) Kate and I became fast friends and I can NOT wait to visit her and the rest of the amazing ladies in Boston. SO SOON. Until then tho, I'd like to have her take over so I can be busy shopping, drinking and tanning.
As much as I love Adriana, I am kind of hating on her right now. So not fair that she is on a beach vacation while I toil away at my cubicle. Before you feel bad for me, I suppose you should know who I am. I'm Kate and I blog at
Another Clean Slate
. I'm a huge book nerd who is obsessed with college football, brunching and never saying no to a fun trip. 30/f/Boston if you're of the Instant Messenger age.
When Adriana and I first "met" it was blog friend love at first type. I believe our first moment was over our mutual distaste for milk. Blech! I also hate tomatoes, olives, coffee and most things that are good for me. This is why it is so hard for me to prepare my "hot" bod for a beach vacation.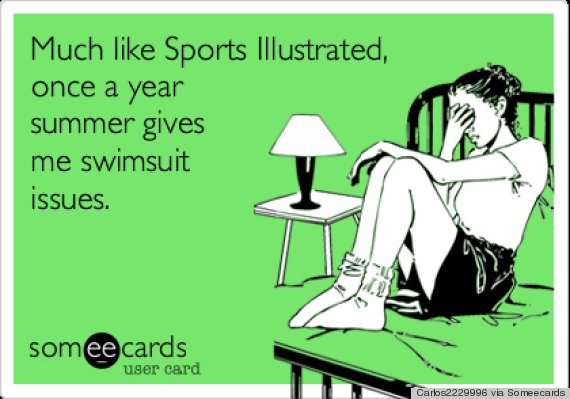 I know Adriana already left on her trip, but for future reference, here are my quick tips for prepping for any event involving a bathing suit.
Invest in a great cover-up.
Hang out with someone who has a 24-hour stomach bug and breath their air as much as possible.
Invite at least two people who you know you look better than in a bathing suit.
Drop your photo-happy friend's camera in the nearest toilet (not the one impacted by previously mentioned stomach bug).
"Accidentally" book your flights to Miami, Ohio instead of Miami, Florida.
Drink until you think you look hot (contingent upon camera being disposed of prior to intoxication).
Hopefully, you can use one of my tips the next time you are invited to a destination wedding or spring break reunion and aren't comfortable strutting your stuff in a bikini. Thanks for putting up with me while our favorite blog friend
Lil
Adriana is away!
You can find me at Another Clean Slate, on Twitter, Facebook, Bloglovin or covered in a muumuu at the local beach.
And now, I want to introduce you to an awesome blogger. She's funny, she's silly, she's a talented writer, completely cracks me up and she's basically the nicest person ever!
1. When and why did you start blogging?
I started blogging back in March to talk about a disorder I have been struggling with since I was 12. My blog became my spot to write about all my thoughts, random life shenanigans, and things that make me happy!
2. What is your favorite post you've written and why?
My favorite post is probably What The Heck Happened To My Little Pony because it's pretty much a glimpse of how I think, like, 98% of the time. It's not a life-changing post, but it makes me laugh, and it's important to like your own posts, right?
3.

You changed your blog name a while ago, that's a big deal! Why did you decide to do it?
Changing my blog name was definitely a big deal! It took me forever to decide on a new name because
I knew I'd only get one chance at a redo...I think it's an unspoken blog rule! M
y original name didn't fully reflect my content after I started to really get into blogging, so I moved to a name that would better reflect my personality and writing.
USE CODE:
IMONVACAMOFO
Meet My Bloggy Little! Go Check Her Out!